We've seen a lot of crazy eye brow trends and styles in the last few years, and we are sure you have too! Let's take a look at the craziest eyebrows trends we've seen this year…
The Rainbow Brow
A creative way to pay homage to Pride and LGBT+, the Rainbow Brow is a bright, vibrant style that will undoubtedly make you stand out from the crowd!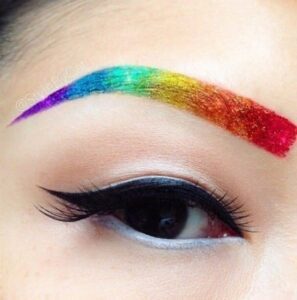 The Halo Brow
Started by Instagram Beauty Blogger @hannahdoesmakeupp, this look is undoubtedly heavenly…
The Instagram Brow
The 'Instagram Brow' incorporates a faded style of shading that starts lighter at the front and becomes more defined towards the end.
 The Feather Brow
Feather Brows were created by splitting and dividing the brow down the middle and sticking down the hairs with glue.
Whilst eyebrow trends will come and go, a classic brow is timeless.  Sian Dellar can help you get your dream brow with our Microblading Services.
Microblading is a semi-permanent make-up service that is engineered to mimic natural brow hairs.
Using disposable microblades, this effective, non-invasive procedure gently implants colour into the dermal layer of the skin, leaving you with fuller, natural-looking brows.
Microblading can also help extend the length of the eyebrow and reconstruct brows with little to no hair.
Each service is tailored to each individual client, so you are in control of how you want your brows to look.
For more information on how you can enhance your natural brow semi-permanently, click here